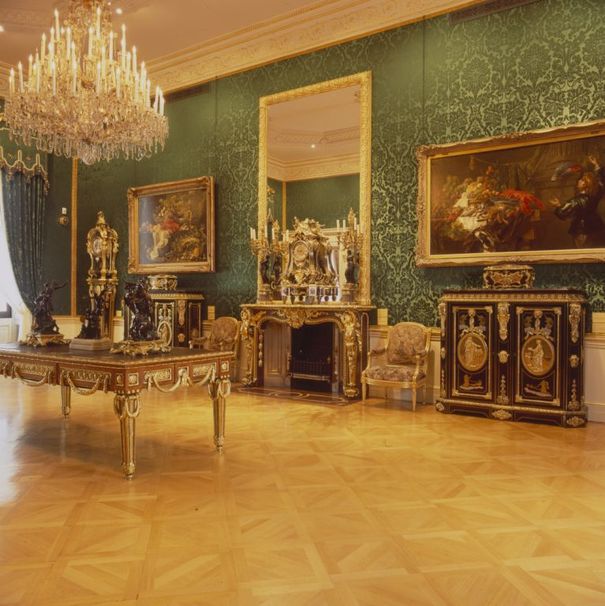 How is that I come to be sitting here (again), in multiple layers of knitwear and watching The History of the British Family? Having just watched Delia Through the Ages? Have I, without noticing, aged two score and twain? Subscribed to the Daily Mail, found fault in everything and begun spying through my curtains?
I do not wish to remain like this. I am pro-active, dynamic, entrepreneurial! Sadly, all those are lies. I suppose I was vaguely cultural over the weekend. I dashed madly from Shepherd's Bush on Saturday morning to the
Wallace Collection
. Which I do love. I like that it is usually the more discerning visitor who makes the trip there. I always wander, wanting to put everything I see into imaginary drawing rooms I possess, remembering things from National Trust properties which would go well together. Drawing room full, I entered the
Damien Hirst
exhibition currently showing there. Firstly, sorry what? Hirst in the
Wallace Collection
? I don't follow. Nor did the elderly Swedes in front of me. The contrast between the beautifully ostentatious gold statuettes and scarlet curtains, suddenly with paintings of skulls and daggers on a black background. The colour of which matched the wallpaper well, so noted my companion. Well it had one thinking, at any rate.
What also had me thinking was the tremendous pain my feet were in. Like the pre-recession
Mrs Trefusis
, I had eschewed sensible shoes. It was nightmarish and complete agony. I'm sure it would be utterly small-fry for any female passers-by, but for the inexperienced, the naive... Oh dear. And the absolute worst thing, is that my Father is a fully qualified podiatrist. Such betrayal and so very pathetic.
Later dinner at
Sohojapan
. It was quite charming and inexpensive, and I had forgotten how delicious Japanese food is. The stodgy British and Swedish fare I have eaten almost exclusively the last month had left me in desperate need of some variety. Raw fish and noodles and such other things as plum wine. Yummy. Shame about some of the company. I would have embraced a state of temporary deafness the whole evening. I am becoming less and less tolerant as I age. I am turning ever faster into my paternal grandfather. A man loved and feared, though I was the favoured grandchild. One of our party was an insufferably dull American*, carrying on about his intimate knowledge of the DJ scene. It irritates me no end when people lack any real social skills whatsoever. How hatefully dull to dictate the conversation for the entire evening. Thankfully my biting comments went over his head, it's that wonderfully British ability to seem polite and charming and yet be quite nasty. I was feeling positively venomous once the underground music scene in Utah was mentioned. I'm sure it's fabulous, but I have absolutely no interest in such matters and I resent being forced to listen to such things. I had come to dinner with friends (Well, one friend and her brother, an old boy from school), not to a lecture. One of the other's was equally taxing:
"Oh I don't shop at Waitrose, only Wholefoods."
The most surprising company was my friend's brother. We had met-ish at school and about, but never really spoken. It was nice to see the youngest member of the group being, by far, the most mature and grounded of the lot. And capable of engaging in conversation, not merely regurgitating his thoughts.
Then I saw
Frances
.
Quel film
! Jessica Lange is utterly breathtaking. Oddly enough, I was hoping to see a happy film of sorts, something to soothe the beast within. However this film was so eye-openingly wondrous, I loved it. The descent into madness, the life-blood - taken away by higher powers. And so classically pretty, too. It was fabulous. More films of the calibre need making. I had only vaguely known of
Frances Farmer
, the film made me do much more research. The film is based on a biography, supposedly quite fictional. Artistic license, perhaps? Much of the chronology is very accurate, but certain events (Clue: Lobotomy), are not verified and apparently untrue. But the truth isn't so important. Or the truth about
Farmer
, at least. But the tragedy of her story, and of the stories of other people who suffered under the system in much the same way. Quite horrific, and not light viewing. But also, touchingly funny at points. I walked from Marylebone at midnight in the snow, and felt so burdened by "sanity". And feet less painful and in better shoes, but nonetheless, sore.
For a surprise Thai finish to the weekend, I found myself in the
Faltering Fullback
on Perth Road near Finsbury Park. A charming, independent local featuring main courses at £5.50. And thoroughly delicious. I had a chicken, seafood and pineapple rice dish, which I couldn't not try because of the interesting combination. I was given a chipped wine glass, which may have cut my lip ever so slightly, but they were so very apologetic and upgraded my wine, I couldn't possibly let that detract from my evening. And then there were the mad locals, very forthcoming in their conversation. Including one who was off to see his ex in Croydon. Apparently jumping on one's partner is enough reason to separate. Who would have thought. Enlightening.
Now, I am eagerly awaiting a
Treasure Hunt
through London that a friend has organised for me tomorrow. Such fun!
*I have enormous respect for the American people and many individual Americans. A charming and inspiring nation in many respects. This one was sadly a poor ambassador.